Welcome to the February 2014 Edition of Cyber News, an ad free, spam free online magazine emanating from Stanley's Studio in Phoenix, Arizona. In Cyber News we'll try to pass along some useful tips and information about your computer, the Internet, computer products, digital photography, other related topics, and some stuff that's not related at all!

Well, how was your first month of 2014? Went by pretty fast, and here we are almost to Valentine's Day. Do something nice for that special person this year. Something different, something memorable!

The biggest sporting event in the world will take place on February 2rd. The play-offs were exciting especially the cliff hanger between the 49'ers and the Seahawks! Super Bowl 48 will feature the talents of quarterbacks Payton Manning of the Denver Broncos and Russell Wilson of the Seattle Seahawks. It's an excuse to have a party, have some drinks, eat lots of goodies, watch the game, and especially the commercials! And guess what? The big game next year is only 10 minutes from our house!

I've had several customers mess up their computers lately by downloading the wrong thing. Here's the scenario. Companies pay other companies to put their "Download Button" on their websites. Sometimes you don't know the proper button from a false one, so before proceeding you should pay special attention. Since some of the applications we love are free this is one way they can make money. One such case is CCleaner that I've recommended for years. It does a great job of keeping our machines running smoothly. Now and then you get a pop up window that notifies you to upgrade. So you click on it and it takes you to the website to download the latest version. There sitting in front of you is a large download button so you click on it and download something that not only you don't want, but something that will cause chaos and frustration! Now your computer is a mess and you blame it on CCleaner but that's not the case at all! Make sure you click Download CCleaner, and NOT PC Performer, or WinZip. You simply have to use caution and make sure you click on the right button when updating any application.
Another scenario that presents frustration is not paying attention when installing a program. During the process it takes you through several screens and if you go too fast you'll miss taking checkmarks off stuff you don't want. Google's Chrome browser and Google's Toolbar are notorious for this. Google pays a lot of companies to sneak their programs "in the back door." So, use caution when installing any program and pay attention to each window that appears during the process!
It's rumored, but not official, that Windows 8.1 will update in March or April, and have more emphasis on the desktop. And to that I say it's about time! Windows 8 might be great on a tablet but most people have nothing nice to say using the operating system on a desktop computer. Let's hope things get better in that arena! More on this from PC World.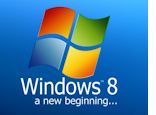 If the new update to Windows 8.1 doesn't please its customers what will Microsoft do with Windows 9 that's expected next year? Let's look at the history of Windows. Windows 98 was a success. Windows Millennium was a failure. Windows XP was a huge success while Windows Vista was a failure. Windows 7, another success followed by Windows 8 which is hated by most. Microsoft better shape up their act with the next operating system, whether they call it Windows 9 or something else!
For those of you that use Yahoo.com as your home page, I would advise you to think twice about it. For years the pros have suggested not to use that site because of viruses. Now recently people have been getting malware from the page and that's not good. I would suggest a news site for your home page such as MSN, or NBC News, Google News, or Fox News. To change your home page first go to the one you want to use, then click on Tools, Internet Options, and click the "Use Current" button, then OK. Now each time you open your browser the first page you'll see is the one you picked instead of Yahoo.
Here's another "Beware" for Facebook users. Sometimes on your FB page you'll see a post from one of your friends that says something like; Click Share, then click on the photo to see what happens! If you see language like this it's a scam, so don't waste your time.

It's a shame that we have to be so careful on the Internet today. Another big problem is phony emails. Of course by now we all are aware of the quacks in another country that want to send us millions of dollars if we just give them all our personal information. That's really stupid, but there are other ones that are much more clever and again you have to be careful and use good judgment! More on this from CNET.
Technology is an industry on steroids, it's moving so fast it can't keep up with itself! The mind of man has not conceived where we'll be even five years from now; because it hasn't been thought of yet. There are thoughts however on where we are going in 2014. Here are Kim Komando's predictions.
Three guys meet on line, each of them with an interest in music. One is from Puerto Rico, one from South Korea, and the other guy from New York. They meet in person and two days later sing together on "America's Got Talent." Great story but watch this!
In a paragraph below each month I ask you to visit my Photo Site. This month I'd love you to see the "Big Cats" that I captured recently at the Phoenix Zoo. Just seeing them though doesn't give you the story "behind the scenes" For that adventure please see my latest Blog entry.

Photo Tip of the Month: Have you tried your hand at Macro photography? A macro shot is one that is taken extremely close-up. This form of photographing offers a whole new world of wonderment and beauty! Some cameras have a menu setting for "Macro Mode" and some cameras require a special lens. There are even special lenses for cell phones now and one of them is the "Olloclip" for the iPhone. You might enjoy exploring this new world!
Check out my personal Photo Site. You'll see over 1,700 pictures in 41 galleries taken from around the world. New photos were added last month to several galleries. On a trip, last month, to the Phoenix Zoo I captured a few great shots of "big cats." You'll find three of them, Lady Lion, His Majesty, and a beautiful Bengal Tiger, at the bottom of the Animal Gallery.
If you would like to be notified each month when a new edition of Cyber News is posted, you can use the "Subscribe to our Mailing List" below. Your email address will be shared with no one!

Remember you can always read previous editions of Cyber News by clicking on the links at the bottom of this page. You can also search previous editions of Cyber News by typing in a key word or words into the search box.
"Live with Passion, in a Constant State of Joy, and with an Attitude of Gratitude!"

If you think a friend or family member would enjoy Cyber News, don't hesitate to let them know about it. An easy way to do this is to right click on the web address in the address window of your browser and choose copy. Open your email program and a new email. Address it, and in the body of the message right click and choose paste. That creates a link and when your friend receives the email he or she simply clicks on the link and it will take them directly to Cyber News. Of course you can do that with any web site.
Secrets to Safe Computing : Read each point below and follow the advice as outlined. Just a few minutes of work each month will go a long way in keeping your computer running smoothly!
Never open an email attachment unless you know it's safe.
Make sure System Restore and Firewall are active.
Follow guidelines in "Secrets to Safe Computing."
Don't open Email from strangers.
The contents of Cyber News may be copied, reproduced, or freely distributed for all nonprofit purposes without the consent of the author as long as the author's name and contact information are included. Cyber News is a free service of Stanley Computing and is published each month, originating from Stanley's Studio in Phoenix, Arizona.
Disclaimer: The information presented in Cyber News is researched and is believed to be accurate. We cannot guarantee that all the information will work on your particular combination of hardware, software and user skills. All information herein is offered as-is and without warranty of any kind. Neither Stanley Computing nor its contributors are responsible for any loss, injury, or damage, direct or consequential, resulting from your choosing to use any information presented on this web site. Stanley Computing has not been compensated in any way for any product endorsement.