Welcome to the March 2014 Edition of Cyber News, an ad free, spam free online magazine emanating from Stanley's Studio in Phoenix, Arizona. In Cyber News we'll try to pass along some useful tips and information about your computer, the Internet, computer products, digital photography, other related topics, and some stuff that's not related at all!

After the longest cycle of operating systems, Windows XP is almost history. April 8th is the date when Microsoft will no longer support XP. This doesn't mean that your machine will stop working, it just means that after that date you will no longer receive critical updates and of course that means your computer will be vulnerable to hacker attacks. All good things must come to an end, so continue and take your chances or saddle up to a new machine. The good news is prices have come way down since your last purchase. If you purchase a new computer off the shelf it will have Windows 8, but if you are demanding Windows 7 you can order one from Dell or HP online. More on this from PC World.

It's been said many times that printer manufacturers could afford to give you a printer for the price you pay for re-supplying ink cartridges. If you think a gallon of gasoline is expensive do the math on printer ink! One word of advice that I can pass along is to not panic when getting a "Low Ink Warning." Lots of people have replaced them too early costing extra money. Print till they quit!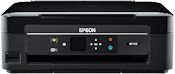 Want a great printer for a ridiculously low price? When my last printer quit working I went shopping for a new one and took a chance on the lowest priced one at Wal-Mart. It was an Epson XP-310 all-in-one for $59. All-in-one meaning that it prints, copies, and scans. Epson is the oldest name in printers with a great reputation. Not only was the price low, but it had every option including wireless and being able to print from an iPhone or Android phone. It was easy to set up and has been fast and reliable!
If you have a death wish, keep on texting and driving! It's pathetic how many drivers are zooming down our highways and byways while texting away. Really....it's that important? Is there a text that's worth a funeral service? Texting has its place but do you have to have your cell phone in your hand 24/7? A great percentage of teenagers are spending more time in cyber space than in reality and thus we are seeing an unacceptable decline in social graces! Ignore the phone during meals, when with friends, at the movies or in church! Here are 13 signs u might b addicted 2 texting!
The new Samsung Galaxy S5 was unveiled at the Mobile World Congress in Barcelona, Spain recently and will be available for Galaxy fans on April 11th. You saw Ellen taking photos with it during the Oscars. If you're interested, here's the scoop!
Being the proud owner of three iPhones, last fall I switched to the Galaxy S4 because of the anticipation of minor changes to the iPhone 5S. Not that the 5 and 5S are not great phones because they are, but the S4 had a bigger screen and more camera options. Since the Galaxy S5 will be on the market for months before the release of the iPhone 6, probably this September, Apple will have time to out shine them all. I promise you the 6 will feature a larger screen, faster processor, and the best camera to date and that's when I'll make the switch back to the ever popular iPhone!

85% of people are taking pictures with their cell phones and those cameras are getting better by the day! Phone cameras are now featuring very fast auto focus, high definition video, and lots of megapixels for large prints. In a matter of time there will be a thin line between your phone camera and that expensive pro camera. The gap is getting narrower thanks mainly to improvements in camera software and other technologies, but may never close completely. More on this from USA Today.
We all love the mysteries of life. Is this a mystery, illusion, or just plain magic? Sit back, relax, and try to believe your eyes as Hans Klok presents the "Divas of Magic!" Be sure to watch this in full screen.
Time to remind you again about important files on your desktop or laptop like documents, music files, and photographs. Are they backed up to an external source? Don't be sorry and have a nervous breakdown if your machine quits and your files are not saved somewhere besides your hard drive. You can purchase a 1TB drive for less then $80 and for most people that's overkill. 500GB is plenty for the majority of users and you can pick one up for around $50. If you're not backing up, put this on your "To Do List!"
Another reminder: There are three things that you can do regularly to keep your computer running as fast as the day you bought it. Run CCleaner daily, run Malwarebytes every two weeks and defragment your hard drive every 30 days. That's it! I guarantee if you do this religiously you will have minimum problems. Click on "Secrets to Safe Computing" further down the page for details.
I'm seeing a lot of yahoo email accounts being compromised. This happens when a hacker guesses your password and then sends mass emails from your account that include a virus. The best way to protect your account is to use a strong password. Make it long with a combination of numbers and letters. To be safe you might want to change yours today!
Doncha hate it when you click on a website and a video starts playing without your permission!?
Here's a video that you will start on purpose. Do you remember Jeff Gordon, the famous race car driver, when he made a TV commercial for Pepsi and scared the pants off a car salesman? Well here's a follow up that will have you on the edge of your chair! Check it out and be sure to watch in full screen.

Photo Tip of the Month: Before going out to take pictures there are certain things you should check before taking the first shot. Is your battery charged? Check your settings. Make sure the lens is clean. When you're satisfied everything is ready to go then study the light. Where should the light be for the best photo? In film days we limited the number of shots because of the cost factor. Today in the digital age once you've purchased the camera there is no further cost so shoot away and take lots of shots! The more you shoot the more likely you'll get that money shot!
Check out my personal Photo Site. You'll see over 1,700 pictures in 41 galleries taken from around the world. New photos were added last month to several galleries. Turning a normal photo into something else is fun, and that can be accomplished by built-in and optional editor filters. The very best, in my opinion, are the Topaz Labs filters. You can read about this experience on my Blog and view photos with added effects here.
If you would like to be notified each month when a new edition of Cyber News is posted, you can use the "Subscribe to our Mailing List" below. Your email address will be shared with no one!

Remember you can always read previous editions of Cyber News by clicking on the links at the bottom of this page. You can also search previous editions of Cyber News by typing in a key word or words into the search box.
"Live with Passion, in a Constant State of Joy, and with an Attitude of Gratitude!"

If you think a friend or family member would enjoy Cyber News, don't hesitate to let them know about it. An easy way to do this is to right click on the web address in the address window of your browser and choose copy. Open your email program and a new email. Address it, and in the body of the message right click and choose paste. That creates a link and when your friend receives the email he or she simply clicks on the link and it will take them directly to Cyber News. Of course you can do that with any web site.
Secrets to Safe Computing : Read each point below and follow the advice as outlined. Just a few minutes of work each month will go a long way in keeping your computer running smoothly!
Never open an email attachment unless you know it's safe.
Make sure System Restore and Firewall are active.
Follow guidelines in "Secrets to Safe Computing."
Don't open Email from strangers.
The contents of Cyber News may be copied, reproduced, or freely distributed for all nonprofit purposes without the consent of the author as long as the author's name and contact information are included. Cyber News is a free service of Stanley Computing and is published each month, originating from Stanley's Studio in Phoenix, Arizona.
Disclaimer: The information presented in Cyber News is researched and is believed to be accurate. We cannot guarantee that all the information will work on your particular combination of hardware, software and user skills. All information herein is offered as-is and without warranty of any kind. Neither Stanley Computing nor its contributors are responsible for any loss, injury, or damage, direct or consequential, resulting from your choosing to use any information presented on this web site. Stanley Computing has not been compensated in any way for any product endorsement.