Welcome to the November 2014 Edition of Cyber News, an ad free, spam free online magazine emanating from Stanley's Studio in Phoenix, Arizona. In Cyber News we'll try to pass along some useful tips and information about your computer, the Internet, computer products, digital photography, other related topics, and some stuff that's not related at all!
The most important thing we can talk about this month is the mid term election. You may think that your vote won't count but it will as often times people are elected by just a few votes! This is an extremely important election as we need to put in office honest people with integrity who will protect the Constitution of the United States. Do your patriotic duty as an American citizen by voting on November 4th!
Ten things that will disappear in our lifetime. It's amazing to think of the things that our grandparents didn't have. No TV, no refrigerators, washers and dryers, computers, indoor plumbing, and the list goes on and on. Now, as amazing as it seems, there are things that will disappear in our lifetime. The post office, checks, newspapers, books, the land line telephone, music, television, things we own, joined handwriting, and our privacy. For an explanation of these ten things you can Google the bold words that begin this paragraph.
Apple's IOS has finally settled down. Last month they released 8.0 and it had problems so they replaced it with 8.01 and it had more problems and was immediately replaced by 8.02. That was followed by 8.1 which seems to be running smoothly. Make sure your iPhone is updated. Before doing so, charge your battery and use iTunes, or Wi-Fi for the update. It's much slower and not as reliable if you use the network.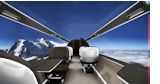 Windowless Airplanes Will Give Passengers High-Res Panoramic Views. Yes, no windows! In the next 10 years we'll be riding on jetliners in virtual reality. The idea is to provide a 360-degree view using cameras mounted on the plane's exterior to capture the scenery and then project that on high-resolution screens on the interior cabin walls and ceiling. Wow! Read all about it and view a video!
Apple thinks iPad photography is here to stay says the headline. Whipping out a tablet to take a photo is a practice that, like it or not, is going mainstream. Once primarily the domain of dads who don't mind embarrassing their children, tablet photography has become so common that Apple added serious camera features to its new full-sized iPad. This is what Apple claims, but I really don't see the popularity of iPad photography. Never say never though, stranger things have happened. Details from CNN.
There were over one million users signed up for Apple pay within 72 hours of its release. If you are using it or plan to use it there are a few tips and settings you should know about. Three tips from CNET.

Question of the day. Can you put your cell phone away when you're with friends? It's very rude to prioritize your phone over the person or persons you're with.
2nd question of the day. Can someone explain how Kim Kardashian makes headlines almost every day?
Health officials are now saying drinking soda is more dangerous than smoking cigarettes. MSN's health & fitness gives us 8 ways why drinking soda is killing us. Advance each photo and read the explanation on the right.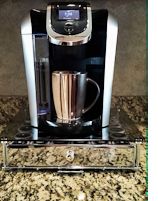 The world of technology touches all aspects of life including coffee! I have never been a coffee drinker. The last few years I would have a cup just occasionally. That stopped abruptly when staying at a bed and breakfast in Santa Fe recently where they had one of those fancy Keurig one cup coffee makers. They have been around for a while but I just haven't paid attention to them. On our little vacation I found myself having 2 or 3 cups each day. I was hooked! Returning home I could hardly wait to purchase one. This machine made drinking coffee fun! If you've been thinking about one the best buy was at Sam's Club.
Coffee technology is mild compared to the future of the operating room! Surgery is a common everyday occurrence in hospitals around the world. Surgery saves lives and in the future simple and complicated procedures will be performed totally without a cut or a stitch. Watch this fascinating video.
I have always thought that Celine Dion is the greatest female singer of our time. Every generation brings a new star in all categories including music. If you haven't heard of a girl named Charice you will now after watching her sing with Celine. She will take your breath away.
Flipboard updated their program on October 30th, and it's even better! Flipboard is a fantastic app for your tablet or smart phone and it's FREE. Personally it's the only reason I open my iPad every evening as I can catch up on the latest news and browse my favorite things that I choose. It's like reading a magazine and it's fun. Give it a try and I'll guarantee that you'll like it! Find it in the Apple Store or the Android Play Store. More from PCWorld.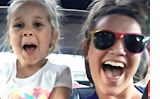 A mother and her young daughter sang the song "Love is an Open Door" from the movie "Frozen." They did this sitting in the car and Mom posted it on Facebook. She expected a few "Likes" but when she woke up the next day she had thousands. She then put it on YouTube and it's had nearly 4 million hits. Watch this and you'll be amazed! After this went viral she was invited on the Ellen Degeneres Show and they both got surprised!
Everyone, by now, has heard of the distaste for Windows 8. Probably for the first year it was difficult to purchase a new computer with something other than this monstrosity of an operating system. Because of the public's continued dislike for Windows 8 you can now more easily purchase a new desktop or laptop with Windows 7. It's possible it may cost a little extra, but it would be well worth it! The story from InfoWorld.
A good thing to remember if strange things are happening on your computer or your cell phone is simply to re-boot. Most of the time this will fix a lot of problems.
The best place I have found for photo prints is Sam's Club. From small prints to 20x30 poster size, and that size is only $8.96! I have printed lots of the poster size prints and they are beautiful. Pick the week when Hobby Lobby have their frames on sale for half price and you have a treasure to hang on your wall at a very inexpensive price. Sam's also does Christmas cards, photo books, coffee mugs, photo blankets, and other cool stuff! Costco also does a great job with photos.

Another photo tip: If you're using a program to edit your photos then I know you would love Topaz filters. These plug-ins will work with most popular editing applications, and will make your photos pop! There are many to choose from and they all contribute amazing results. It's rare that a photo comes out of the camera just perfect and if you want stunning results a little tweaking is in order. Here's their web site, check them out and try any or all free for 30 days. My favorites are Adjust, Clarity, DeNoise, Detail, and the all new Impression. Impression turns your photo into a work of art and you can see how I've used it in the paragraph below.
Check out my personal Photo Site. You'll see almost 2,000 pictures taken from around the world in dozens of galleries. Recently I have acquired a new program called "Impression" from Topaz Labs. It gives you the ability to turn a photo into a piece of art. Check out 4 that were taken late October in Eastern Arizona. They are the last ones in this photo gallery.
Pray that America elects some honest people to office, Pray for the containment of the Ebola Virus, Pray for world peace and remember to "Live with Passion, in a Constant State of Joy, and with an Attitude of Gratitude!"
If you would like to be notified each month when a new edition of Cyber News is posted, you can use the "Subscribe to our Mailing List" below. Your email address will be shared with absolutely no one!

Remember you can always read previous editions of Cyber News by clicking on the links at the bottom of this page. You can also search previous editions of Cyber News by typing in a key word or words into the search box.

If you think a friend or family member would enjoy Cyber News, don't hesitate to let them know about it. An easy way to do this is to right click on the web address in the address window of your browser and choose copy. Open your email program and a new email. Address it, and in the body of the message right click and choose paste. That creates a link and when your friend receives the email he or she simply clicks on the link and it will take them directly to Cyber News. Of course you can do that with any web site.
Secrets to Safe Computing : Read each point below and follow the advice as outlined. Just a few minutes of work each month will go a long way in keeping your computer running smoothly!
Never open an email attachment unless you know it's safe.
Make sure System Restore and Firewall are active.
Keep your Operating System updated.
Don't open Email from strangers.
The contents of Cyber News may be copied, reproduced, or freely distributed for all nonprofit purposes without the consent of the author as long as the author's name and contact information are included. Cyber News is a free service of Stanley Computing and is published each month, originating from Stanley's Studio in Phoenix, Arizona.

Disclaimer: The information presented in Cyber News is researched and is believed to be accurate. We cannot guarantee that all the information will work on your particular combination of hardware, software and user skills. All information herein is offered as-is and without warranty of any kind. Neither Stanley Computing nor its contributors are responsible for any loss, injury, or damage, direct or consequential, resulting from your choosing to use any information presented on this web site.

Gary Stanley or dba Stanley Computing has not been compensated in any way for any product endorsement.